Remember the link I put up on my New Year's post? Well, that little link with the girlfriend whacking her boyfriend made me laugh. But, I recently came across the one where said boyfriend gets girl back with pie. Both jokes were totally unoriginal, but they made me laugh nevertheless.
Click here
to see his revenge.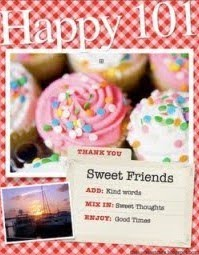 On a lighter note, I got another blog award. Thanks,
Amanda
! Like I've said before, the bog you've created has loads of your personality in every post and I love that. Anyway, on to the rules. I'm supposed to list 10 things that make me happy, try to do at least one of them today, tag 10 bloggers that brighten my day, and link back to the person that tag me.
10 things that make me happy:
1. my family
2. my friends
3. writing (that should be a given)
4. being so engrossed in a good book that i feel lost when i'm done
5. the show GREEK on abc family
6. my car  : )
7.  my beta readers
8. my laptop...come to think of it, laptop should be higher up on this list!
9. music that fits a moment in my life perfectly
10. a really funny (or corny) joke
10 blogs that make me happy(Note: there were so many to choose from. Sorry that I couldn't pick everyone!):
And, last is a quote from Desperate Housewives that has absolutely nothing to do with this post at all...
"Carlos, we were married! I'm entitled to half of everything you embezzle!"
--Gabby