A Q&A with the amazing Carrie Jones!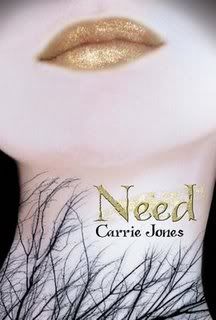 Zara collects phobias the way other high school girls collect lipsticks. Little wonder, since life's been pretty rough so far. Her father left, her stepfather just died, and her mother's pretty much checked out. Now Zara's living with her grandmother in sleepy, cold Maine so that she stays "safe." Zara doesn't think she's in danger; she thinks her mother can't deal.
Wrong. Turns out that guy she sees everywhere, the one leaving trails of gold glitter, isn't a figment of her imagination. He's a pixie—and not the cute, lovable kind with wings. He's the kind who has dreadful, uncontrollable needs. And he's trailing Zara.
From Ramblings to Interviews:
When and why did you begin writing?
Carrie Jones: Well, I first started writing in nursery school. The teachers insisted. I didn't feel as if I had much choice. I had a hard time with the letters "P" and "D" and "Q" and "B" I was always flipping them upside down and the opposite ways so "P" would become "d."
RI: The magical beings in Need you've created are so unique. What inspired you to write them, seeing as the genre is different than your previous novels?
CJ: I really thought of it as a big experiment. I get bored terribly easily, and I had this strange experience that sort of pushed me to write.
I was at the Common Ground Fair, which is this huge, cool fair in Maine that's sponsored by Maine Organic Farmers and Growers Association (MOFGA). To get to the main part of the fair you have to walk through this sweet trail that curves through these tall spruce trees.
Right in front of me was this guy. He had a weird vibe. He was wearing all corduroy – blazer, pants. And sticking out from his blazer was this long tail-like appendage that was wrapped in different colored earth-toned cloth. I guess he could tell I was checking him out because he turned his head and looked at me. His eye was this startling silver color. How startling? So startling that I actually gasped and got creeped out. Then when we were in line to pay we made eye contact again and his eyes were brown.
I know! I know! I probably imagined the silver eye color.
It doesn't matter. That was one of the main things that got me started. Then, I just had this image of a man standing outside an airport pointing at an airplane this girl was on.
It also creeped me out.
So, I started writing.
RI: Captivate, Need's sequel, will be finally be released on January 5th, and we've all read the summary on Amazon (sounds great btw!). But, can you tell us any more about it?
CJ: Um.... My editor made me cut out a lot of the love scenes, but there are still some in there....
I'm actually not supposed to talk about it. It is SO hard to not talk about it.
RI: When it comes to writing, do you outline, write blind, or have a mix between the two?
CJ: It depends on the project but usually I start out blind, get to about 50,000 words and then go back over it and create a chapter outline from what I have. Then I tend to cry, throw my hands up in frustration, and ignore my outline.
RI: Is there anything particularly challenging in your writing?
CJ: I tend to be a minimalist, and I tend to like love scenes and dialogue, so I'd say description and structure (see that last question about the outlines) are my biggest challenges.
RI: Any weird writing quirks?
CJ: I don't write naked.
I don't write upside down.
I don't write in a bathtub of strudel.
So, I think I'm a pretty boring writer, actually. 
I am one of those writers who writes better when they are happy. If someone is cranky at me or I watch the news before I write then I am pretty much blown for the day. Pathetic, I know.
RI: Do you have any advice for aspiring writers?
CJ: Everything I could say seems like a cliche.
I mean it's cool if you:
1. Write every day (At least 100 words)
2. Read every day (At least 100 words)
3. Believe in yourself and your character and your story.
4. Have fun
5. Study the craft
6. Eat strudel
7. Don't get hung up on being the most awesome writer in the universe because once that happens you get writers' block.
But all the rules can be broken and everyone works in a different way
RI: Do you have anything specific that you want to say to your readers?
CJ: Thank you for reading! It is so nice of you! And thank you for not ripping the books in half and trying to flush them down the toilet. I really REALLY appreciate that.
RI: What's one question that no one ever asks, but you wish they would? (And answer please!)
CJ: Q. Carrie, why do you like puppies so much?
A. Because they wag their tails and lick you and they let you pet them all day long and they ALWAYS ALWAYS love you.
3 Quick Facts:
Book you're currently reading- 
Coffeehouse Angel by Suzanne Selfors
Movie you've fallen in love with-
Dude, I am so easy. I love almost ALL movies. Seriously. It is sad.
Author you've grown to admire- 
I admire pretty much all of them. How about... um... oh! That's so hard. Today it's Rita Williams Garcia, but I've ALWAYS admired her.
RI: Again, thanks so much for taking the time to answer these questions!
CJ: Oh, thank you for asking them!