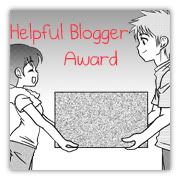 A recent comment on
Roni's
 blog inspired me to create this award. I haven't seen one like it yet, which is a shame because there should be! In my following list there are tons of bloggers who help out the rest of the blogging community and it's amazing. I'm going to make up the award rules as I go, but I promise not to make them corny.
The Helpful Blogger Award Rules
Include the award logo in your blog or post.
Link to post where you received the award.
Nominate seven blogs that you feel are helpful to others.
Be sure to link to your nominees within your post.
Let them know they've received the award by commenting on their blog.
Share one thing that no one knows about you & quote a sentence from your favorite book.
&&& I award these helpers : )
1.
Roni
-- She did inspire me to create this after all. Check out her blog for amazing writing tips.
2.
Lori @ Pure Imagination
--Always posting helpful YA book reviews and encouraging others to read through giveaways.
3.
Suzie Townsend
--An amazing literary agent who even post book reviews, which can help aspiring writers can a true sense of her likes/dislikes.
4.
Lynnette Labell
e--Another writer with valuable tips she's willing to share with the rest of us.
5.
Jodi Meadows
--Always posting what's interesting. Plus, she has adorable ferrets. 
6.
Julie
--She's got the make-you-think posts down. And, she's my betareader, so I'm slightly biased.
7.
Kirsten Rice
--A now agented writer who's sharing her journey with us this very moment.
Secret: No one knows that I . . . *haha you missed it!*
Book Quote: "I wasn't thinking about the man who'd blown himself up." --an awesome first sentence that always stuck with me from the Temperance Brennan Novel: Deja Dead by Kathy Reichs. These are the novels the hit tv show Bones is based on. Great read.