I'm sure many of you are excited about Melissa Marr's Wicked Lovely becoming a movie. Yes, I'm one of those people. Like I said--dork. For those of you who haven't heard, Melissa Marr sold the Wicked Lovely movie rights to Universal Pictures. The movie will be produced by Wild West Picture Show Productions and adapted by Caroline Thompson. No casting news has been announced, but I'll definitely keep you updated. Stay tuned!
Ahhh, there's more.
Yesterday was the lovely Marr's interview with Blog Talk Radio. Go to blogtalkradio.com to hear about her new adult anthology. The book also features Kim Harrison, Jeaniene Frost, Jocelynn Drake, and Vicki Pettersson.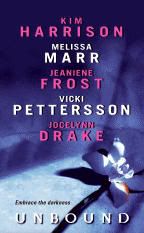 "Not all hunters are bound by human laws. . .
Revisiting the paranormal realms they've made famous in their wildly popular fiction, New York Times bestselling authors Kim Harrison, Jeaniene Frost, Vicki Pettersson, and Jocelynn Drake--plus New York Times bestselling YA author Melissa Marr with her first adult supernatural thriller--unleash their full arsenal of dark talents, plunging us into the shadows where supernatural stalk the unsuspecting. . .and every soul is a target.
Get ready for the ride of your life--because the wildest magic has just been unleashed. . .and evil is about to have its day."